Watson Wyatt Worldwide used a composite scorecard that it calls the Human Capital Index (HCI) to grade companies on their Human Resource Management practices. Corporations that scored highly in the survey averaged a five year return of 64% compared to a 21% return delivered by lower scoring competitors. With double the difference in value addition the future must belong to those organisations who optimise the value of their Human Capital.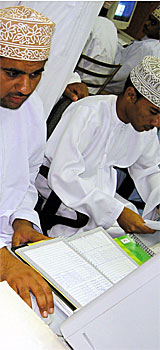 The concept of Human Capital - which originated with the 1979 Nobel Prize economist Theodore Schulz, who was interested in the plight of the world¹s underdeveloped countries - is founded on the premise that improving the welfare of poor people does not depend on land, equipment or energy, but rather on knowledge.
In The ROI of Human Capital, Jack Fitz Enz translated Schulz¹s first-principle economic view into strategic business sense by acknowledging that: ³people are the only economic component with the inherent power to generate value in an organisation. All other variables, cash or its cousin credit, materials, plant and equipment, and energy offer nothing but inert potentials. By their nature, they add nothing, and they cannot add anything until some human being, be it the lowest-level labourer, the most ingenious professional, or the loftiest executive, leverages their potential by putting it into play.
And yet institutional Investors who are the ultimate numbers gurus, representing the cold voice of massed shareholders have traditionally focused on hard results like return on assets and economic value added to satisfy their continuous demands for efficiency and profitability. Most did not concern themselves with soft issues like people. Even so, over the last 30 years, balance sheet assets and liabilities now account for less than 60% of real market value. According to Baruch-Levy, a professor at New York University¹s Stern School of Business, by the late 1990s profit fluctuations could only account for 10% of changes in the market value ascribed to companies.
Find & Retain Talent
It is clear that if the hard numbers contained within periodic financial statements are actually measuring less and less of what is truly valuable in a company, then we start to lower the relevance of that scorecard. According to Steve Wallman, a former Commissioner of the US Securities and Exchange Commission, what has been needed are new ways to measure the intangibles that are really starting to impact sustainable success - like the competition to continuously find and retain talented people, the quality of research and development, individual customer and employee satisfaction.
In the 21st century Knowledge Economy, the majority of each company¹s long-term value is between the ears of its people. In brief, if a company is losing talented people, it is bleeding value. The only way to generate enduring profits is to begin by building the kind of work environment that attracts, focuses and keeps talented people. And yet enlightened leaders will say that this is not new thinking - it has always been true, if the organisation is to be built to last.
The great irony has always been that people, the most valuable of commercial assets, is the one that has historically been the most difficult to evaluate and the most difficult to manage. Recent research conducted by the Future Foundation and Savill and Holdsworth has uncovered the costs of poor people management and they are massive. In India the annual cost is reported to be approximately RO3.9 billion, an amount that is equal to 2.6% of GDP. In the UK the figure is close to RO8.8 billion and in the United States RO40 billion. Research for the Middle East region has yet to be completed.
HRD & an ICT Explosion
But clearly, each year vast sums of money are wasted because organisations fail to realise the latent human capital potential within their workforces. Annual reports have been paying lip service to the cliché - our people are our most important assets. Yet developing great people is now more important than ever. However, in many cases HR has been to blame. Traditionally, HR struggled to conduct solid business analysis and see the financial effects of various decisions and approaches says Edward Jensen, a partner at specialist human performance consultants, Accenture. But now, the expanding information communication technologies are creating a revolution that is enabling humdrum human resources management to be transformed into explosive human capital development.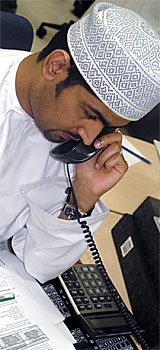 In short, HR now has the tools to become more strategic, contributing directly to business success at the enterprise level. And institutional investors and CFOs are waking up to the fact that not only is it possible to create hard meaningful measures for soft issues but the process also delivers positive impact, where it finally matters - on the bottom line.
Paper to Pixels
According to Mike Williams of Trans Alta Corporation - Canadian-based power producer and reseller - today¹s technology is transforming human resources into a more valuable and strategic entity that is helping to fundamentally change business for the better. At Trans Alta, the HR management system has migrated from paper to pixels. Integrated within the organisation¹s SAP based ERP system. This new approach which includes self-service applications are automating a number of key processes, including recruiting, hiring, benefits administration, payroll and reporting. Moreover, it is delivering significant savings and efficiencies. Inbound queries to the HR Department have reduced by 66% and efficiency improvements has delivered over RO31,000 in annual cost savings. Though given these types of results, ³there are still some organisations that have yet to grasp the revolutionary value that technology-driven HR can deliver in measuring and articulating the impact of workforce performance on business success,² says Andrea Yasman, Global Director of Human Capital Management at SAP.
Because they can deliver the right information at the right time into the hands of the people who need to make critical decisions, advanced software applications are eliminating ponderous piles of paper data, improving responsiveness through click and tick service selection tools, positively impacting efficiency by reducing administration layers and accelerating management decision making. All of which is driving down hard costs and enhancing overall fit for purpose.
Organisations like Trans Alta that have migrated to electronic HR report that as connectivity improves and people become more familiar with the Internet and web-based applications, this in turn drives demands for further developments and unlocks new service enhancing opportunities. To meet this demand, employers are responding by building more sophisticated portals that can connect users to a virtually limitless range of service providers and product suppliers. These services may be for personal use or for job related activities.
Technology Helps Recruit & Retain Talent
Two areas where enabling digital technologies have had a significant and visible impact are in the critical HR activities of recruiting and retaining talent and people development.
Recruiting, performance management and succession planning tools are now automating many of the tasks associated with finding, hiring and keeping talented people. The HR team¹s aim is to have a continuous supply of the right people for the right job at the right time and the web provides the key. Candidates now find job opportunities through web-based advertising, specialised chat rooms and recruitment portals such as www.monsterjobs.com or by searching the websites of target organisations and submitting applications on-line.
To reduce wastage for employers and applicants, key word filters within the search engines ensure that online applications are only forwarded for opportunities where individual qualifications, experience and skills provide a close match to the posted job requirements. For the employer, this reduces the number of applications received but improves the fit for purpose. Also, because access is open, the potential talent pool is global. Online applications flow through to the recruiter or HR team to view and take action on demand. For suitably qualified applicants, the benefits are that their profile can be immediately viewed by the widest range of employers who have immediate vacancies. This change is enabling HR teams to mobilise talent for fast track projects within timescales that would have been fiction 10 years ago.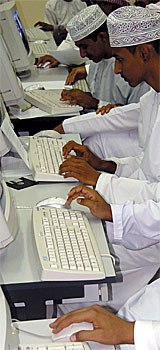 In the area of people development, e-Learning has become big business and delivers solutions directly to the desktop and so removes or reduces the cost of time spent away from work and associated travel and subsistence costs. Centralised learning management systems, that can store multi-media in instantly accessible repositories, are removing the need for shipping expensive learning materials. With scalability and adaptability built in, e-Learning materials can be upgraded or changed as required in a just-in-time process that ensures a virtually unlimited shelf-life.
Learning programmes can also be linked directly to Performance Management and Development systems so that people can view the programmes required for professional development and promotions, working with their managers to identify priority learning goals that can be mapped into a performance appraisal process. Also, by uploading progressive development results into succession planning software, the HR team can ensure continuity up and down the operations line.
In future DO issues, this column will focus on each of the vital areas of HRM performance. Indeed, it will provide DO readers with an insight into how winning organisations are harnessing the power of new knowledge and digital technology to unshackle HR and create human capital that is able to add real value in an increasingly competitive and uncertain world.