This May, more than 70,000 video games industry professionals from 79 countries gathered at the Los Angeles Convention Centre for the Electronic Entertainment Expo (E3Expo), the world¹s premier interactive entertainment trade show.
400 exhibitors occupied 547,000 net square feet of exhibition space and displayed more than 5,000 computer and video game products - 1,000 of which had never been seen by the public before. It is like a modern day Aladdin¹s Cave, full of flashing jewels and wonder.
It is also louder than an airport runway, busier than rush hour and has more nerds per square inch than a Star Trek Convention. Barnum may have had trained elephants to wow his crowds, but E3 has wild mammoths with rocket launchers trained at your head.
Unless you have been to E3, Œyou can¹t really picture the spectacle, or understand the raw thrill of excitement. So many games to play, so little time. And this year¹s Expo proved to be more exciting than most, with not one, but two glimpses, at the future of entertainment.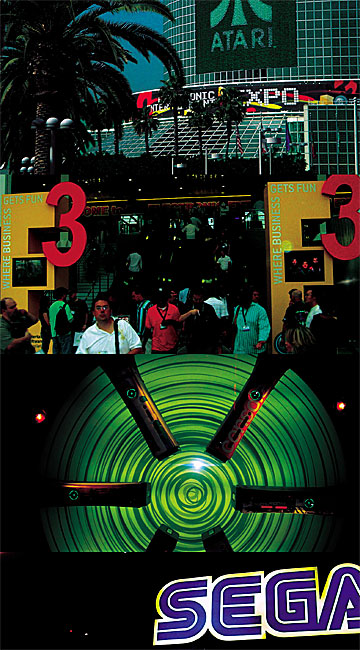 Microsoft entered the games space proper with the Xbox in 2001, firing the opening salvos of what has been dubbed the Console Wars. They quickly blitzed through the ranks of Nintendo, beating the Game Cube back into third place, and have battled bravely against the established and embedded masses of PlayStations and PS2s the world over. But, after setting out a year behind the competition, they always faced an uphill struggle.
But now the Console Wars have taken a very different turn. Breaking with tradition, Microsoft showed off its new console - the Xbox 360 - before E3, in an MTV exclusive. This departure from the norm is indicative of the shape of things to come. Games are no longer perceived as a niche form of entertainment, rather, they are part of a suite of entertainment at the heart of everyone¹s lives. For 50 years, the TV set in the corner of the room has been our window on the world and our first choice for rest and relaxation. Globally, we spend over 4 hours a day glued to the toolbox.
Microsoft want to become part of that experience, and the best way to do it is to create a box of tricks so fantastic, that no home will want to be without it. The latest machine can be used to play music, watch DVDs and stream media from portable devices or a Windows XP computer.
As was widely leaked, Microsoft has abandoned the black, boxy look of the Xbox for a far softer design, with curved edges and a clean white look. The front panel houses a disc drawer, two memory card slots, an infra-red receiver for an optional remote control, the power button and two covered USB ports. Separate panels will be available to replace and customise the front of the console. The controllers are similar to current ones, but are wireless and white to match the console.
Behind the scenes, the 360 is powered by a processor with three IBM PowerPC 3.2GHz chips, with a custom ATI 500MHz graphics processor and 512Mb of RAM. According to Microsoft, this will offer a teraflop of overall performance.
So, this time, Microsoft has sought to steal a march on the competition, showing they have got both bright, shiny new guns and lightning quick-on-the draw reflexes. There was almost a sense of alienation amongst gamers coming to E3 that Microsoft had not got their blessing first, and a sense of satisfaction when Microsoft¹s gun slinging swagger fell flat at the Expo proper. Sure, there are a large number of games tabled for the Xbox 360 (including Call of Duty 2, Quake 4, Tony Hawk's American Wasteland, Madden NFL06, Need For Speed: Most Wanted, Ghost Recon 3 and Tiger Woods PGA Tour 06), but developers at the show were complaining they had not had the support tools necessary ahead of the show. As such, some of the games on show looked stunning, but stuttered along on low frame rates.
Microsoft rushed to the front line, boasting the latest hi-tech sleek weaponry and found out it had very little ammo. Sony returned fire with their own new dream machine. With no nonsensical numerical posturing, just simple sequential sense, they unveiled the PlayStation 3 to a delighted Expo.
The press conference set out the Sony stall and achieved what it had set out do at E3 - make the Xbox 360 look like a minor leap in graphics technology. There is some speculation that Sony only displayed pre-rendered demos and not real, playable, software - and certainly, no PS3 games adorned the show floor. But with the reputation of the Playstation and Playstation 2 behind it, it is likely that Sony will deliver on its promises.
Technically speaking, the Xbox 360 is the better and faster machine but Sony has a wealth of experience and relationships with developers and publishers to rely on that may even the battle. Ironically, the real style icon of the show was Nintendo¹s Revolution. For a company best known for cutesy characters like Mario and garish games consoles, the Japanese giant stunned gamers around the globe with a piece of hardware that was very stylish indeed. But all we were treated to was a sneak peak and confirmation of the name. Nintendo doesn¹t want to give their game away and are biding their time before they announce how they plan to compete with the big two.
With the launch of a trio of new devices, not to mention new handheld devices like the Gizmondo and PSP, the choice for Next Gen Gamers has never been greater. Every year, the entertainment envelope is pushed a little further, with more immersive games, more intuitive controls. The Greatest Show on Earth is coming to a living room near you.