It dawned on me fairly quickly that I could perform all of my tasks quite adequately by using my Pocket PC and a few well chosen accessories for this trip, allowing me to shed 12 kilos! This isn¹t always the case. Sometimes I need more power than my Pocket PC can provide me with, as I sometimes need to access applications or download significant chunks of data. Much of the time, and on short trips, a Pocket PC with well chosen accessories is more than enough to perform the activities I¹m involved with - these include e-mail (AOL, MSN Messenger and Gmail), phone calls, browsing the Internet, giving presentations and of course writing reports in Word.
If your requirements are similar, you can probably leave your laptop at home as well and get on very nicely with your Pocket PC. You may feel a little insecure the first time you do this. Once you¹ve identified and acquired the necessary software and accessories and give it a try you¹ll be surprised by the result. In what follows you¹ll read about some of the accessories I¹ve bought to allow me to shed those extra 12 kilos.
Make Data Input Easier
If you¹ve to take notes, answer e-mails, compose reports, write an article or even if you¹re a budding novelist it can all be done using the Pocket PC with Pocket Word. However, I¹m not advocating you sit in an airport or a coffee shop using your stylus to tap out your documents, far from it! What I suggest is that you invest in a Bluetooth Wireless Universal Keyboard. Although there are different keyboards on the market, I prefer the Stowaway Bluetooth Wireless Keyboard from Think Outside (www.thinkoutside.com). This near full-sized keyboard folds up into a leather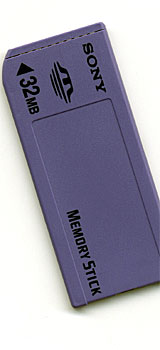 protective case just slightly larger than the Pocket PC itself, total weight around 7 ounces. The extended keyboard includes a detachable stand that accommodates the Pocket PC in either portrait or landscape mode. In fact, in either screen mode there¹s no need to remove the Pocket PC¹s protective case from Covertec (www.covertec.com). The keyboard is powered by two triple A (AAA) batteries, conserving the PDA battery. There¹s a 51-Key QWERTY layout which places the keys in four compact rows, which means that almost all the keys serve either double or triple functions with the help of two function keys. In addition, there¹s an embedded keypad for numerical input. Ten programmable keys allow for the calling of Pocket PC applications. The keys are full sized and comfortable to use. The cost of the unit is around RO60.
Stowaway Travel Mouse
Think Outside is the only company I know of that offers a wireless Bluetooth mouse for the Pocket PC (it can also be used with Smartphones and Tablet PCs). Using a mouse with your pocket PC is an amazing experience. You can click your way around the Internet, scroll through documentation, click through presentations and of course click on individual cells in excel for input. Be sure to get the correct and latest drivers for this racy rodent. Also take the time to get used to it, your efficiency will improve exponentially. You can buy the mouse direct from Think Outside.
Replacement/ Alternate Styli
There¹s nothing worse for the Pocket PC user than to lose or misplace the stylus that comes with the device, especially when travelling. Pack an extra one just in case and consider getting a multi function stylus. One of the oldest names in fine writing instruments has been around in one form or another since 1761. The company is Graf von Faber-Castell and they¹ve been refreshing their product lines in recent years. The results are a natural progression in the company's motto ³Luxury in Simplicity² and the actual products represent, in my opinion, some of the best examples of functional design you¹ll find anywhere. My opinion¹s infinitely biased because I've been a Faber-Castell writing instrument user, on and off, for about 25 years - ballpoints, pencils and, of course, the venerable fountain pen. Faber-Castell is competing head-to-head with the best in the world across several categories of writing instruments now, including stylus/pens.
The Duo model is typical of the new, sleek Faber-Castell designs. Polished stainless steel front and rear barrels with a high quality twist mechanism and a cleanly designed pocket clip provide a balanced feel. The Duo remains comfortable in use, particularly when taking notes during long meetings. A left twist extends the ballpoint and a twist right for the stylus. The lower third of the front barrel, above the tip, is covered with a firm, non-slip silicone grip which blends perfectly with the polished steel. The grip itself is easy on the fingers and provides terrific control and comfort without the squishiness of typical padded grips. The pen uses a Faber-Castell mini-ballpoint refill, providing a smooth, clean line with drag noticeable only on poor paper.
Bluetooth Headset
The Jabra Bluetooth headset is lightweight and fits comfortably over your ear and connects wirelessly to a Bluetooth equipped Pocket PC. It¹s great to use while travelling and invaluable when you¹re driving. These days, there's no shortage of stylish headsets that work wirelessly, thanks to Bluetooth, a short-range radio technology that's slowly catching on. Freed from the wire that dangles between the headset and the phone, some snazzy designs have been popping up.
Actually, headset is kind of a misnomer if you¹re envisioning something that fits over the head. Think earpiece. Some have a ³boom² or arm with an embedded microphone that curves toward the mouth; other designs put the microphone on a stubby tip at the end of the earpiece. To get the headset and the phone to play nicely together you have to ''pair² the devices, in Bluetooth parlance. Generally, that means you set them to pairing mode, let them find each other, enter a code and then create an encrypted wireless link between them. Bluetooth generally works up to a range of about 10 metres, good enough for this type of application.
Mobile Presentations on the Go
If you¹re used to the hassle of getting a laptop set up to do a PowerPoint presentation, you will be amazed how easy it is with a Pocket PC. If you can, use a bluetooth enabled projector and the Pocket PC. If not, you¹ll need an adaptor that fits into the SD card slot in the Pocket PC and lets you connect to a projector via a cable. You¹ll obviously need some software that can handle PowerPoint Presentations; there are a number of these available. I recommend Pocket Slides from Conduits Technologies (www.conduits.com) because it does the best job of converting PowerPoint files for displaying presentations from your Pocket PC. It¹s also the only software that¹s currently available that lets you build a presentation on the Pocket PC and convert it into a PowerPoint Presentation on either your laptop or desktop through the active sync software.
Power Sources
If you¹re going to be doing any extended computing away from a power source, be sure to invest in an extra battery or an extended battery with a higher capacity. These are available from the device manufacturers for most Pocket PCs. However, don¹t forget to take along the mains power charger with you, also a little tip that I¹ve found extremely useful of late is that now there are car chargers available for most Pocket PC¹s which incorporate a USB connection for connection into the 9 volt car charger through the cigarette lighter outlet in cars, but also using the USB connector you can charge from a PC or a notebook - all you have to do is get someone to allow you to connect your Pocket PC device to their device.
Finding Wi-fi Hotspots
Finding Wi-fi hotspots using a Wi-fi enabled Pocket PC can be a bit of a bother. However, it¹s one of three ways of making sure you have connectivity to the Internet while on the road. The I-Mate Pocket PC comes Wi-fi enabled and can be used as a Wi-fi scanner for finding those little hotspots around the globe. Just switch the Wi-fi on and the device will act as a scanner and tell you when it finds a Wi-fi network. Subsequently, you can ask to be connected to that network. For example, Knowledge Oasis Muscat is Wi-fi connected, Starbucks offers Wi-fi connectivity, hotels offer it as well and in some instances commercial enterprises or the Police offer it as a service to their customers (settling parking fines and speeding tickets via credit cards as in Singapore). You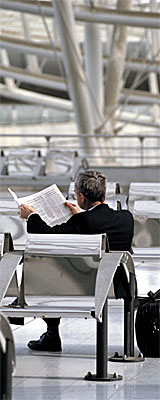 could of course bring along a dedicated Wi-fi locater, however, this is something else to carry in your bag. Or finally you could check the addresses of Wi-fi locations using a Web Based Wi-fi locater before you travel such as www.wifinder.com
I use options one and three here, using the Pocket PC as my scanner or listing in a spreadsheet the locations of Wi-fi in the towns, cities, countries I¹ll be visiting. Both of which have never let me down yet!
IBhar from Omantel
Omantel will bring this service to the majority of five-star hotels in the Sultanate and most shopping malls such as Al Araimi, Al Harthy, Capital Commercial Centre (CCC), Jawharat Al Shatti and the Medinat Al Sultan Qaboos Shopping complex. The service will cover popular cafes such as Starbucks, Karjeen, and Oasis by the Sea Restaurant. Oman International Exhibition Centre is also equipped with Wi-fi hotspots and plans are to cover Seeb International Airport to offer this service to travellers, and there are many other locations to be confirmed in Muscat and Salalah.
Bring a Wired Modem & Cable - Just in Case
Sadly, you won¹t always have wireless or even high speed Internet access available. I maintain a dial up AOL (America Online) account for these situations and use a compact modem to connect.
This device is a 56K wired modem that slips into the Pocket PCs SD card slot. Having to use a wired modem means you may also need to have a telephone cable with you, as many hotels have hardwired connections. I always carry with me a Targus (www.targus.com) retractable phone cable, which is used to connect the modem to the telephone dial up circuit.
Storage & Back-up Cards
Don¹t forget to take along storage cards. Currently, I own a 256 MB SD card for backing up the data on my Pocket PC and a 1GB SD card to hold all of my files whether they¹re spreadsheets, word or presentation materials. If I could get hold of the much talked about 4GB SD cards I would be one happy man! Along with your files you can load entertainment items for your journey,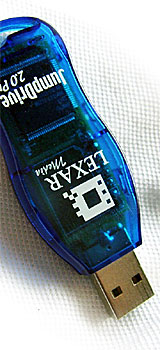 games, e-books, audio books and even music. But leave some space for your photographs as the Pocket PC has a built in camera.
Lose Weight & Feel Better
Contrary to popular belief, it¹s easy to lose weight while travelling. All you have to do is shed the laptop, far easier than shedding kilos from the body. If you must have the power of the laptop, you might consider the light Tablet PC. However, you¹ll be surprised with how much you can accomplish with a Pocket PC. Depending on your tasks you¹ll have to plan ahead. I hope that you find the suggestions here useful. One final piece of advice: be selective about the accessories you take on your trip. Just take what you need.