The signing of
Digital Oman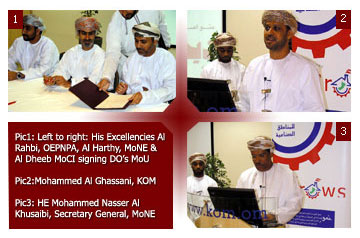 ME's PlayStation Zone at
e-Games
e-Games, "the Gulf's official console, mobile, online games and location-based entertainment event" (www.egames-online.com), is scheduled to run 2 - 3 May 2005, at the Muscat Inter-Continental Hotel. According to Hisham Al Zubaidi, Head of Marketing at KOM: "This year's event will see telcos, programmers, graphic artists, animators, producers, game designers, audio professionals, ISPs, educators and others involved in the development and use of interactive games gather to exchange ideas, network and debate the shape of tomorrow's interactive entertainment industry."
e-Games will feature seven in-depth workshops that will cover the various gaming platforms, including: handheld devices, mobile phones, gaming consoles and PDAs. Workshops will be delivered by industry veterans and luminaries from Sony, Nokia, Sun (Java), Arabia Anti Piracy Alliance, Gamer.tv, Macrospace, GameLab London, RealityCG, Immersive Education and the Infocomm Group.
It's set to be an exciting event with many of the world's most innovative gaming companies demonstrating and talking about "where the gaming industry is, how it's evolving as well as what'll be on the store shelves two to three years from now."
Mohammed Al Ghassani, Director, KOM adds that e-Games is "well timed, happening at this rapidly moving point in the gaming industry as new gaming consoles, gaming enabled mobile phones and Internet gaming start to really hit the Gulf"s consumer market. A recent Wireless World Forum report valuing the mobile games market at US$1.9 billion in 2006, rising from US$520 million in 2003.This clearly illustrates the enormity of the global gaming business, one good reason why we've launched e-Games, an event we intend to run annually."
e-Games is also hosting a three-day Sony PlayStation Zone (1-3 May) that is intended to attract the entire family, where the suits battle it out with the kids. The PlayStation Zone is sponsored by ME, Oman's sole authorised distributor for: Sony, Supra, Ricoh, Daikin and Chigo. ME General Manager, Mr. Bijlani says: "The company's commitment to Oman's gaming community is full on. Over the past 12 months PlayStation has emerged as a strong growth category for ME with even stronger prospects for growth with the soon-to-be-launched PSP (PlayStation Portable). Plus, ME's PlayStation Zone will showcase the latest titles in PlayStation's arsenal."
To get more info on e-Games, contact Hisham Al Zubaidi on hisham@kom.om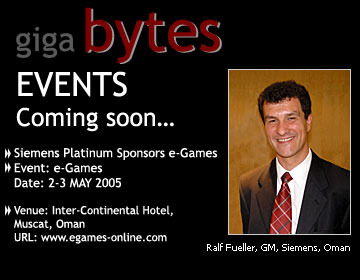 e-Games is a two-day conference that has been designed specifically by KOM, Oman's newly-launched Technology Park - to serve the needs of Gulf-based companies and professionals involved in producing interactive edutainment software and hardware for video game consoles, mobile phones, PCs and the Internet.
Each of the event's seven workshops - delivered by: Siemens, Nokia; Sony; Sun; Arabia Anti Piracy Alliance; Macrospace; Al Bawaba.com; Immersive Education; GameLab London; Gamer t.v.; Infocomm Group; and RealityCG - will have a strong emphasis on interactivity.
Today's gaming industry is big business. Recent figures confirm that the worldwide gaming market is valued at between US$30 and US$35 billion. To put those figures into context, the size of the gaming industry is now approaching the music business, which is worth around US$38 billion and has already surpassed the motion picture industry in terms of box office revenue. In brief, gaming has emerged as a critical form of entertainment and leisure for the majority of 15 - 30 year-olds across the globe.
Hundreds of millions of consumer gamers use a variety of gaming platforms: more than 200 million play PC games, more than 140 million play console games, another 100 million play handheld games. Mobile and online gaming is now emerging, mainly through PCs, console devices and mobile phones. In addition, more than 60 percent of gamers are now over the age of eighteen. This widening age distribution means that gaming is not, as some may perceive, for Gen Y-ers only. Indeed, analysts predict that games will move very much into the mainstream - something that will see ordinary people playing games much more, particularly using mobile phones and TV sets.
Says Mohammed Al Ghassani, KOM's Director: "Sponsored by Siemens, Oman Mobile, Nokia and Huawei e-Games offers delegates the opportunity to take part in a two-day interactive event on mobile, handheld and online gaming. It'll be an informal and lively event where the entire games value chain comes together to discuss the burning issues at the very heart of the industry."
Leading industry players will guide and stimulate discussions to provide delegates with an insight into what is driving and hindering the gaming industry as well as focusing on how to generate more revenue from the creation and provision of games, both now and in the future.
Should you wish to attend e-Games contact Hisham Al Zubaidi on: hisham@kom.om