But every consumer's loss can be an entrepreneur's gain, as proven by an interesting emerging business sector: tech-savvy lost and found services. These services let consumers label their valuables with clearly marked tags informing the finder how to return the item to the owner, and how to get rewarded for his or her help. By phone, via e-mail or any other means available.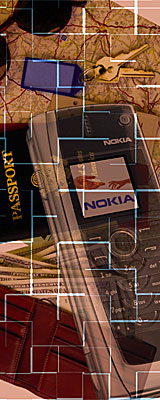 A good example is US-based StuffBak, who has been in this space for a few years now: finders of StuffBak-labelled items can call a toll-free number or consult the StuffBak website. Finders can then drop off the item at the nearest UPS Store or arrange for Airborne Express to pick it up directly. Owners of lost items are immediately notified when their item has been reported found. StuffBak offers all finders a basic reward of RO8 and a gift of StuffBak ID labels. Customers may also choose to offer a cash reward, this could be a blanket cash reward, which gets paid when any of their labelled items are returned or a per item custom reward, which entails a specific cash reward for any individual item after customers have reported that item lost.
StuffBak customers are only charged:
» When they purchase labels. Label packs range from RO3.600 to RO14.500.
» If lost property is returned. Customers pay a RO5.500 transaction fee plus shipping charges.
» If they request payment of an extra cash reward to the finder.
Stuffbak claims that to date, 90% of items reported lost have been returned to owners.
Stuffbak is not the only company operating in this fast growing field: for more info and inspiration, check out Canadian Trackitback (www.trackitback.com), Australian Postbak (www.postbak.com.au) and Malaysian Globetag (www.globetag.com). Perhaps a budding Omani entrepreneur might consider setting up a similar service?
Opportunities
One of those peace-of-mind ideas that consumers and corporate clients around the world are willing to pay good money for, the StuffBaks of this world are on to something. Consumers' lives are certainly not showing any signs of slowing down and there's an equally strong trend towards individuals being more interested in controlling, storing and monitoring their possessions. The latter is helped by the perception of value shifting towards the intangible (try to put a number on the value of numbers stored on a mobile phone, or the thousands of files, messages, or music collections residing on laptops). So recovery in every imaginable shape and form will continue to be a booming business.
Last but not least, with consumers travelling like there is no tomorrow, who will set up the first truly global StuffBak? With multi-lingual labels, websites and call centre agents? We're sure concierge services, express delivery firms, manufacturers of electronic devices and insurance companies would gladly partner, if not take a stake straight away!
YOTEL!
Here we have a no frills chic hotel that opened recently in London, brought to you by the people behind YO! Sushi and other YO! concepts. YOTEL is a chain of funky no-frills chic hotels offering small but highly designed rooms (resembling sleeping pods now found in some first class airline cabins), featuring Sony flat screen TVs with surround sound speaker systems, Wi-fi access, a choice of hundreds of downloadable movies and CDs, double rotating beds, aircraft cabin mood lighting, and rain showers. Check in/out will be automated.
However, the most interesting element of YOTEL is its windows, which are internal rather than external - they look into the corridors, which are in turn naturally lit through reflective mechanisms and channelling of light. This allows YOTEL to boldly go where other hotels simply can't - tricky central city locations, airports, even underground. Reduced property costs and savings can then be passed on to consumers, resulting in a no-frills experience at no-frills chic prices: about RO50 per night.
Opportunities
Affordable yet stylish hotels are the missing link in a world thriving on planned spontaneity: with low fare airlines and no frills rental car companies now spanning the globe, the only thing missing is new-style accommodation. YOTEL is already thinking big: starting in London, the company is inviting property owners in cities like Amsterdam, Barcelona, Bucharest, Berlin, Copenhagen, Hong Kong, Singapore, Madrid, Paris, Rome and Sydney to give them a heads-up about suitable buildings. One to watch closely and not just if you're in hospitality.
Don't Like it?
After decades of living and breathing the consumption society, consumers are experienced and opinionated to a degree that should scare the pants off every business professional. We actually dubbed this mass-phenomenon Generation R: R for Revenge, if you, as a company, choose not to listen to your customers. Generation R has the means to fight back, from websites like planetfeedback.com to their own blogs and viral videos, potentially reaching global audiences in a heartbeat. In fact, expect the Generation R eco-system to evolve rapidly, with clever entrepreneurs becoming information brokers between hapless organisations and right-here, right-now customers.
Case in point: South African 34007 (www.34007.com), an ³instant, direct, reward-based and anonymous channel of communication enabling every single consumer to interact with suppliers, government and civil society, whenever they want and where ever they want.
As it rhetorically asks consumers on its website: ³How often are we satisfied with what we pay for? Is the service up to scratch? Is the product what the suppliers promised it would be? Does the attitude of the staff make you want to scream? Is the advertising offensive or misleading? Do people really care what you think? When you have a gripe, who can you call?
In short, 34007 wants South African consumers to SMS (text) their commercial grievances and suggestions right on the spot, to, you guessed it, number 34007. Naturally, this requires participation from merchants and suppliers: businesses pay RO1.800 a month to become 34007 compliant. This gives them a special merchant code to which customers can (fully anonymously) address their SMS. Merchants can then reply and hopefully resolve the issue. They can also pro-actively offer consumers a digital voucher for every comment, suggestion and complaint they SMS in.
Innovatively, every consumer who uses 34007 gets their own web page on www.34007.com, enabling them to view messages sent to and replies received from suppliers. Suppliers in turn get access to their own website to view consumer's ratings, feedback, set their own message responses, or determine the benefits they want to hand out each and every time customers interact with them.
Opportunities
34007 is one of many companies going for the fortunes hidden in consumer experience, suggestions and feedback. With web-based ventures like planetfeedback.com and Epinions already working hard on funnelling insanely valuable feedback from consumers to hotels, restaurants, banks, airlines and what have you, 34007 goes one step further by cleverly enabling feedback to be given on the spot, in the online and offline world, when and where it matters most. Even better, they're setting out to create a nationwide system that uniquely identifies all merchants and suppliers, something that is missing in most other feedback schemes.
Obviously, this also constitutes 34007's real challenge: how to get enough merchants to sign up for the service, making the service truly ubiquitous. Perhaps broadcasting random feedback for non-participating merchants on the 34007 website would help? We could see 34007 copycats pop up in any place where consumers demand to exercise their right to complain and businesses understand that listening to, learning from and working with the new customer should be a number one priority.