New Smart Card

enabled rewards programme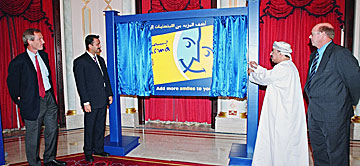 basma partners gather at the launch of Oman's first Multi-Partner smart card enabled rewards programme
BankMuscat, Oman Oil Marketing Company, Oman Mobile and Lulu Hypermarkets have joined hands to launch the first Multi-Partner smart card enabled rewards programme for customers in the Sultanate. Positioned as a product that helps shoppers 'save as they spend ', the basmaRewards programme, will help shoppers 'add more smiles to their day', with a world of benefits and privileges coming their way from the four partner organizations.
Speaking about the partnership, AbdulRazak Ali Issa, chief executive of BankMuscat (SAOG) said:
"We are extremely happy to be part of this pioneering initiative that has four of the largest and most prominent companies in the Sultanate joining hands to provide greater value to customers. BankMuscat is committed to enhancing customer delight in each and every possible way. The basmaRewards programme, we believe, has the potential to change the way people shop in the Sultanate."
Additional partners and merchants will join the basmaProgramme in early 2006 including car sales & service companies, jewellery stores, fashion outlets, electronic showrooms, restaurants, travel agents and hotels. The basma programme will allow cardholders to accumulate basmaPoints against every Rial Omani spent at any of the merchant outlets. Furthermore, if a cardholder is a BankMuscat credit card holder, he or she can earn additional points by paying with their BankMuscat credit cards.
Speaking on the occasion, Mike Wilson, managing director of Oman Oil Marketing Company said:
"It has always been our endeavour to provide value-added services to customers in the Sultanate. What better way than to provide them with a means to save even as they spend, We are sure that the basmaRewards programme will go down well with motorists and shoppers in the Sultanate and help add more smiles to their day."
Unlike many other programmes, basmaPoints can be used as a mode of payment with each point being equal to 1 baiza. Instant redemption will be possible as basmaCards will use the latest smart-chip technology allowing cardholders to make full or part payments for purchases of their choice at all omanoil Filling Stations, Lulu Hypermarkets and Department stores and selected Oman Mobile outlets across the country.
Affirming their commitment in the programme, Dr. Amer Awadh Al Rawas, Managing Director, Oman Mobile said:
"The world today is moving rapidly toward finding methods that promote customer loyalty in exchange of value. Reward programmes, like basma, have shown phenomenal results across product categories in this regard. Oman Mobile endorses offers that our valued customers will enjoy and make part of their lives. The basmaRewards programme, with the high degree of flexibility that it offers, and the promise of more benefits to come, will definitely help enhance our commitment to remain the favorite mobile telecommunication operator in the Sultanate. "
The basmaCard also doubles as a pre-paid fuel card allowing customers to both budget for their fuel spend whilst saving basmaPoints at the same time. The basmaCards have a secure Personal Identification Number (PIN) to prevent unauthorized use in case the basmaCard is lost or stolen.
Confirming their participation in this exciting venture and how they feel it will impact customers in the Sultanate, Ananth A.V., Regional Director, Lulu Hypermarkets said:
"Lulu Hypermarkets has become the first choice of customers in Oman. We believe that the customers should be given even more reason to come back and shop at Lulu. The basmaRewards programme, will go a long way in providing them with another reason to do so."
Initially, the basmaCards will be issued by BankMuscat to privileged credit card holders and by Oman Mobile to a select number of its 1-million customer base in January 2006. The basmaCards will be available at all omanoil Filling Stations for motorists that load RO 20 in the pre-paid facility on the basmaCard.
Smart Manufacturing
Conference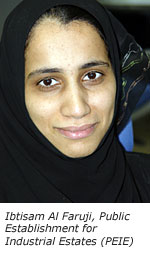 The Public Establishment for Industrial Estates (PEIE), the producers of the Smart Manufacturing Conference: scheduled to be held at the Muscat Inter-Continental Hotel on January 23 - 24 2006, have announced the addition of four new speakers to the conference line-up ( www.peie.blogspot.com ).
Adrian and Pam McCarthy are UK-based business, leadership and executive development specialists and will join sessions on innovation and marketing. Currently, the McCarthys are working with one of the UK's leading research universities, focused on developing new best practice in entrepreneurial leadership. Essex University is the first university in the UK to have a School of Entrepreneurship and Business and according to Pam McCarthy "is set to redefine world-class standards in this area." Sunil Varughese, Brand Strategy Director at Brand Indigo LLC has been added to the Design Driven Strategies: Increase Manufacturing Opportunities session scheduled for the first day of the conference and Dr. S. Irfan Ahmad, Director, Yahoo! Middle East will join the Marketing for Manufacturers panel. Commenting on his participation, Dr. Ahmad said: "Yahoo! Is delighted to be involved in this important manufacturing event. Smart manufacturers need smart marketing and that's what I'll be talking about."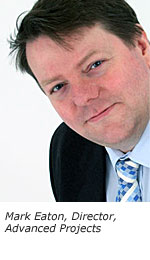 The Smart Manufacturing Conference is to be an annual event organized by PEIE. "This new and innovative program has been designed specifically to bring manufacturers, entrepreneurs, marketers, finance and IT professionals together to examine issues aimed at helping small and medium-sized Gulf-based manufacturers become progressively more successful in their marketplace," remarked Hisham Al Zubaidi, PEIE's Marketing Director. In particular, the two-day programme will focus on marketing, innovation, product design, lean enterprise, the realities of global competition and the importance of technology to the manufacturing sector. According to the organizers, the event has attracted top flight speakers from Europe, the Middle East and Asia.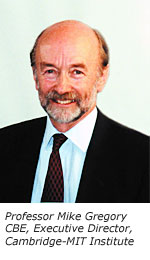 The two-day conference will be held under the patronage of HE Maqbool bin Ali Sultan, Minister of Commerce and Industry and Chairman, PEIE, and the keynote address will be delivered by Professor Mike Gregory CBE, Executive Director, Cambridge-MIT Institute. Professor Gregory is also Head of Manufacturing and Management Division in Cambridge University's Department of Engineering and Fellow of Churchill College. "He's served on a range of institutional and government committees including currently the UK's Department of Trade and Industry's Manufacturing Forum. He's also Chairman of the British Manufacturing Professors Forum. We're delighted to have someone of Professor Gregory's standing present at Smart Manufacturing," remarked PEIE's Ibtisam Al Faruji.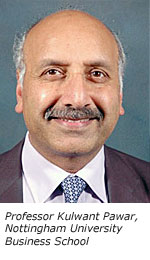 Commenting on the introduction of additional speakers, Al Faruji said: "After reviewing the excellent feedback we've received on the conference, we decided to make some changes to our sessions and expand the programme." She added: "The new topics, which offer additional coverage on innovation and marketing in manufacturing, have been developed with the help of the presenters themselves, and we feel that attendees will benefit from their experience."
In addition to the two-day conference, PEIE will host a bonus Lean Enterprise Workshop at Knowledge Oasis Muscat on 25 January, this will be delivered by Mark Eaton, former Director of the UK's Manufacturing Advisory Service.
Smart Manufacturing is sponsored by Reem Batteries, Sun Technologies, Oman Economic Review, Knowledge Oasis Muscat, OEPNPA, Infocomm Group and Photo Centre.