Dr. Al Ruzaiqi to

run ITTS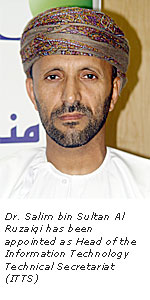 Dr. Salim bin Sultan Al Ruzaiqi has been appointed as Head of the Information Technology Technical Secretariat (ITTS). The Secretariat works in partnership with government agencies and the private sector in the design and implementation of public policy in relation to the introduction, delivery and improvement of e-Government services in the Sultanate.
Dr. Al Ruzaiqi will report to HE Mohammed Nasser Al Khusaibi, Secretary General, Ministry of National Economy and Head of Information Technology Executive Committee. Accepting the new job, he said: "Running ITTS is one of the biggest and most challenging IT positions in Oman today."
ITTS has been set a formidable challenge in not only driving the use of government services online but also encouraging change, reform and greater ICT efficiency throughout the Sultanate's public sector.
Dr. Al Ruzaiqi added the government had already made "notable" achievements in e-Government. "Indeed, I'm relishing the challenge of leading the Secretariat and to working alongside our partners to further develop the Sultanate's Digital Society strategy. ITTS has established a clear presence in the ICT field and built an outstanding profile nationally and internationally. I'm keen to build on this excellent start."
DO Supporters Back
digitaloman.com
In May, OEPNPA in partnership with Knowledge Oasis Muscat (KOM) and the Information Technology Technical Secretariat (ITTS) at the Ministry of National Economy launched www.digitaloman.com - the website to accompany the largest and most exciting ICT magazine to hit Oman's shelves.
Commenting on the website's make-up and remit, Eng. Mohammed Al Ghassani, Executive Vice President, PEIE, said: "digitaloman.com will a high-performance site, covering only the best the ICT industry has to offer. With over a dozen domestic contributors, authoritative features will provide up-to-date stories and opinions from Oman and around the world and give readers an inside look at the Sultanate's ICT landscape and the people driving its development."
The website is intended to partner the magazine in connecting Oman's technopreneurs, ICT and government leaders. "Indeed, given the magazine's important and unique partnership with Bank Muscat, Oman Arab Bank, Bahwan CyberTek, The Omzest Group, Oman Mobile, Omantel, Siemens, Nawras and PDO it's set to bring a new sense of style and substance to Oman's ICT industry," commented Al Ghassani.
Asked about the website's USP, Mohammed Al Rasbi, CEO, R&D and the webmaster for digitaloman.com stated: "This is website that'll stand out from the crowd. An effective combination of style, comprehensive and authoritative advice from ICT industry experts will without doubt ensure it never gets left behind, making it the new ICT website to watch."
Digital Oman is a truly ambitious high-end ICT website that's set to carve a new niche in Oman's growing e-Publishing sector, said Al Ghassani, concluding that: "the plans we have for this project are extremely exciting and I'm confident the site and the magazine will offer its readership a solution of the highest quality."
Oman's Blue Chips

Back KOM's Open House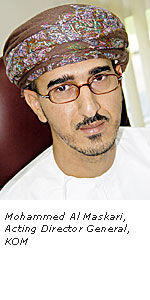 With support from Oman Mobile, Omantel, Bank Muscat, Oman Air, OEPNPA, Infocomm, OER, Photo Centre, dGraphix and Relections Knowledge Oasis Muscat ((KOM) kicks off its new Open House seminar program on Tuesday 13 September with a session on Business Continuity Planning.
KOM management estimates that in excess of 1,200 people attended the Technology Park's 2004 – 05 Open House season. Commenting on the event's popularity and success Mohammed Al Maskari, KOM's Acting Director General, remarked: "Led by top experts and given the numbers of people that turn up each month, it's more than apparent that the Open House has hit the right note in various business, government and academic circles."
"There's been a high level of interest," said Ibtisam Al Faruji, PEIE's Open House Co-ordinator. "Open House sessions are free and open to anyone and the bulk of companies attending are small and medium-sized businesses, many of whom are keen to get an understanding of new business trends and thinking. We also attract top flight civil servants, university teaching staff and students. It's a dynamic mix of people."
Mohammed Al Rasbi, CEO and Founder of R&D and a KOM-based tenant said that one of his main reasons for attending the Open House sessions was to see presentations by Yahoo, IBM, PDO, Sun Microsystems, Infocomm Group and Reality CG. "I want to hear from companies that are at the leading edge of technology – sure, some of these are household names while others aren't, but when it comes to applying smart technology to business, they're second to none. The Open House seminars show how technology has fundamentally changed the way firms operate and present examples of how to follow suit at minimal expense. They're invaluable."
The calibre of the Open House programme is underlined by the sponsorship it has attracted which includes: Oman Mobile, Omantel, Bank Muscat, Oman Air, OEPNPA, Infocomm, Photo Centre, OER dGraphix and Reflections. Mohammed Al Shikely, Senior Manager, Marketing at Oman Air, said: "Our support of KOM's Open House program is a symbol of our continued success and steadfast commitment to Oman's business community.Those attending the sessions won't only gain new knowledge but also have the opportunity to review their individual situation, learn from the experiences of others and pick up bundles of practical business advice."
"As the sessions run between September 2005 and June 2006, at KOM, Sohar and Salalah there are bound to be dates and venues that will suit all," remarked Eng. Mohammed Al Ghassani, Executive Vice President, PEIE.
Karim Rahemtulla, Founder & CEO of Infocomm Group, which has an international reputation for excellence in applying e-Business methods to SMEs."The Open House program fully briefs business managers on the possibilities, options and issues they need to consider, it's without doubt the best monthly business seminar on offer in Oman, he said."
Bahwan CyberTek

Hosts Leading HR Practitioner

HR managers and other corporate executives turned out in large numbers for a workshop conducted by Professor K B Akhilesh, renowned HR practitioner and leading academic from the Indian Institute of Science and visiting professor at the Indian Institute of Management. The workshop was held at the Grand Hyatt Muscat and organised by Bahwan CyberTek. The event focused on: 'enabling execution excellence through integrated and technology driven HR practices.' "To succeed in today's global markets, employees need to empowered – by adopting this approach firms have a greater chance of succeeding," remarked Professor Akhilesh, "In today's dynamic business environment, the need to build a nimble and totally aligned organisation is critical. Successful organisations across the globe have realised this by integrating talent, effort, performance and reward," he explained.

Professor Akhilesh's presentation focused on: creating competitive advantage by implementing integrated HR practices; ways to seamlessly implement HR process changes; building global top teams and competencies; and enabling key executives to define their career paths.
OAB Installs Five

FastBank Machines

Oman Arab Bank (OAB) will install five FastBank machines in the capital shortly, bringing the total number of these machines in use to 11. Abdul Kader bin Ahmed Askalan, OAB's CEO, told Digital Oman that the decision was made due to the overwhelming response from: "our customers and customers of other banks. Over the past six months, total collections and transactions from the existing five machines stood at over RO1.5 million and 50,000 respectively." The new machines will be installed at the Sultan Centre, City Centre, and at OAB's branches in Muttrah, Seeb and Al Kuodh.

The idea of FastBank has grabbed the public's attention, allowing users to deposit cash into OAB accounts, pay electricity and water bills (in Muscat area only), pay Omantel fixed telephone and Internet bills, settle OAB Visa Card bills and pay Oman Mobile and Nawras GSM bills. All these services are available 24/7 and come with an instant automated receipt. More recently, OAB has also added Hayyak card recharging facilities from its FastBank machines. "Additional services are under review and testing, which will provide more benefits to our end-users," said the bank's CEO.

OAB's Internet shopping card, launched in 2003, has also been well received. "Initially the response was slow, usage is on the rise due to customer awareness through various communications campaigns carried out by the bank" said Askalan. Usage of "our Smart Card is also showing steady growth with the addition of new shopping outlets accepting the card. Government departments have also approached us to install Smart Card payment systems at their counters," he added. Over the past few months, OAB has installed Smart Card systems at ROP counters, Mina Qaboos customs, airport customs and at Wajajah, Wadi Al Jizzi and Hafeed border posts. At Port Services Corporation counters, OAB's Smart Card has been the only accepted mode of payment since 1 September. The Smart Card electronic payment system allows corporate and retail customers to pay customs duty, labour department levies, fees at the Ministry of Commerce and Industry, and OCCI. In addition, individuals can load money onto the Smart Card and use it as currency at various locations while shopping.
Omantel Acquires Stake in
Al Omaniya E-Commerce
Omantel recently announced the acquisition of a 40% stake in Al Omaniya e-Commerce company at a cost of RO1.5 million. Omantel's strategic investment in the e-Commerce outfit is aimed at diversifying its investment portfolio as well as develop its e-Commerce activities. When contacted, Eng Mohammed bin Ali al Wohaibi, Executive President, Omantel, told Digital Oman that the investment would enable Omantel to carry out various e-Commerce activities, including e-Procurement.
Al Omaniya e-Commerce recently signed a 15-year concession agreement with Tejari, a Dubai-based e-Commerce firm, which was valued at US$1.4 million. Eng Al Wohaibi also remarked that the telecommunication major had invested in a submarine fibre optic telecommunication network - the Falcon project - which connects Oman with India and Egypt. "Omantel's investment in this project runs into several million Rials," he added.