EOS & Zubair
set up at KOM
A new partnership between EOS Technologies and Zubair has been established at KOM to market document exchanges and tender systems. The Zubair Corporation is taking a 40 per cent stake in the new venture, for an undisclosed seven figure fee. The new business, EOS MENA, will service 24 countries from its Oman base.
Khalid Al Zubair, explaining the move to create a regional network from Oman, said " Oman is, at all levels, at the forefront of technology and is geared towards being part of a global network." The decision to join forces with EOS Technologies at KOM was partly because their new partner already had other regional operations in Europe, Asia and North America and the prospects for Middle East expansion were bright. He believes KOM is the right place to set up - "KOM's facilities are world class and second to none." The new venture plans to launch over the next few months electronic document exchanges - suitable for both large and small businesses - in the UAE and Qatar. Discussions are also already underway with potential partners in Bahrain, Yemen, Saudi Arabia, Kuwait and
Egypt . Alan Livingston, CEO, EOS Technologies commented: "we envisage that by the end of 2006 we'll have over 50,000 organisations connected to our network."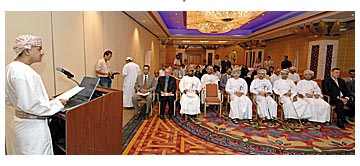 Nawras
Covers the Sultanate
Just a few months after launching commercial services in March 2005, Nawras now covers Oman. Ross Cormack, Nawras CEO says, "We're extremely pleased to announce that we now cover the Sultanate, from the northern-most region of Musandum to the southernmost region of Dhofar." In a ground-breaking partnership with Oman Mobile, Nawras now has national roaming agreement. Nawras customers can now use Nawras services in areas where Nawras has yet to build its own coverage...at Nawras prices.
Cormack said: "In the first phase of this agreement Nawras customers can make and receive calls as well as send and receive SMS messages all over Oman. The second phase, coming soon, will feature services such as sending and receiving picture messages; downloading Nawras signature services such as games and ring tones from Nawras Zone; and, Internet access through GPRS technology. National roaming will be available for Nawras customers wherever we don't have our own network coverage." He adds that Nawras is building its own network fast. "In the areas where we already have coverage,
including Muscat, Batinah, Salalah, Nizwa, Sohar and Sur, we'll deliver the full Nawras experience over our own network." Customers will always be charged Nawras best value rates - regardless of which network is used.
The roaming service is available to all Nawras post-paid and pre-paid customers including Nawras Mousbak, Mousbak Plus and Ajel. Incoming calls to Nawras customers roaming on the partner network are free. Services such as Caller ID, Call Waiting, first call redirect to Customer Service for SIM activation and all types of recharging to Nawras Mousbak accounts are available for roaming Nawras customers when on national roaming.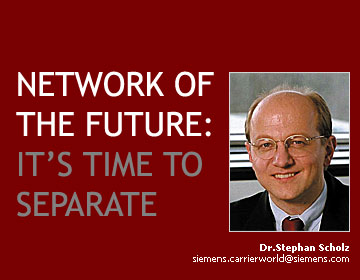 The telecommunications landscape is changing today faster than ever before. Broadband access, Carrier Ethernet and IP have all begun their march to success, soon after reaching the market. Yet the greatest change is still to come: the separation of connection set-up, feature handling (voice, video and data) and subscriber data. This step will enable network convergence once and for all.
Carriers now face the problem of having to maintain several infrastructures. The fixed network, wireless systems, cable networks, Internet access and other data networks require their own network and user management systems. Consequently, most data in the systems is redundant. Apart from the high admin costs this incurs, there is also the expense of the current way of implementing applications. For example, every system must now have the complete function set of an application available to it. As a result, upgrading a service or introducing a new one typically means having to upgrade all system components.
Redundancy of the applications, such as voice transport via different technologies (fixed network, mobile), is a particularly serious issue. First, it causes delays in the full-coverage rollout of new services, and that has a negative impact on revenue. At the same time, multiple implementations also drive costs higher.
The current means of managing users is less than efficient, operationally. If, for instance, a call is to be passed from the fixed to the wireless network, two databases have to be searched. The result is traffic that does not directly contribute to increased earnings.
What's needed is a structure that makes user data management and the introduction of new services network-independent and thus simplifies it in structural terms. The solution is a central database that stores all user data, as well as the uniform control of access and modification. This eliminates the costs incurred by data redundancy and by forwarding calls to other networks. M o r e o v e r, a central solution serves the need for cross-network services, such as number portability and uniform, transparent billing.
Consistent access authorisation (e.g. lifetime numbers with a password) could also enable new services. For example, it would be possible to store an individual communications profile that provides users with their preferred application interface worldwide and ensures that their communications experience is always what they want - regardless of the network they are using. In addition, this data could be linked with other information, such as medical files or bank data. This would give subscribers centralised access to all the data they need to access online.
Another benefit of a central structure would be genuine network convergence. If features are provided centrally, all functions can be called up from any desired network. To d a y, the full range of features must be implemented separately for each network, which is why, for instance, SMS services are offered in a wireless network, but not usually in a fixed network. The central provision of functions for all networks can remedy this shortcoming.
A further advantage of a central approach: Users do not have to be enticed to use a specific network at any price to ensure that the carrier can operate economically. Instead of forcing the use of a specific network, the carrier lets customers pay for the use of functions. Result - they can access the communications channel they prefer. This will inevitably expand the customer base, since it is not only the subscribers of a particular network who can then call up specific services. Instead, users from all networks can utilise the functions offered.